October 16, 2018 | by Wong Fleming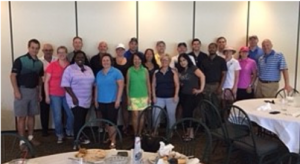 Associate Dafney Dubuisson Stokes attended the Ford Credit Legal Office Golf Outing on August 26, 2018. Guests participated in a nine-hole scramble, utilizing both the front and back nine.  Following a popular "What Do You Know" team building exercise and the tournament, all teams came together to enjoy a full dinner buffet. This event was held at Dearborn Hills Golf Course in Dearborn, Michigan.
Congratulations to the winning teams.