October 25, 2018 | by Wong Fleming
A Global Day of Service was organized by the Ford Of-General Counsel professional women's network, Legal Alliance for Women (LAW), inviting partnering law firms to volunteer on September 27, 2018. Participants were granted the opportunity to team up to give back to the community, as well as support LAW's mission to help women and girls.
In honor of this event, Dafney Dubuisson Stokes presented a Voters' Rights Presentation on October 24, 2018, to the Senior Class of STEMCivics. STEMCivics is a charter school in Ewing, NJ with 100 percent minority enrollment and a mission to use STEM (science, technology, engineering, math) to inspire academic excellence, to promote civic engagement, and to ensure students are ready for college and career. Stokes discussed the struggles minorities have faced, throughout history and still to this day, when trying to vote. The presentation coordinates with the senior class field trip on November 6 to vote on Election Day.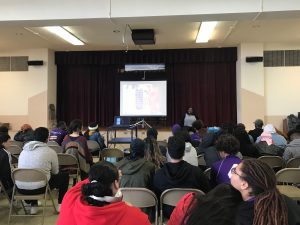 Summer Internship
Following the presentation, Stokes proposed an internship opportunity at the firm of Wong Fleming. The internship will allow one student from STEMCivics to experience what it is like to work in the legal services industry and gain valuable career experience during the summer of 2019.