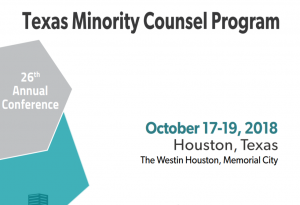 October 29, 2018 | by Wong Fleming
Partners Tariq Zafar and Rehan Alimohammad attended the Texas Minority Counsel Program (TMCP) in Houston from October 17-19, 2018.  The TMCP is a client development, networking, and CLE event for diverse attorneys in Texas. The TMCP was created in 1993 with the mission of increasing opportunities for minority, women, and LGBT attorneys who provide legal services to corporate and government clients, and to expose those organizations to the legal talent of diverse attorneys in Texas.
Both Partners also participated in the TMCP's Networking through Service program where attorneys present to an elementary school class on how to become a lawyer.
Mr. Alimohammad is on the steering committee for the TMCP and is currently the Immediate Past Chair for the State Bar of Texas Board.