May 30, 2019 | by Wong Fleming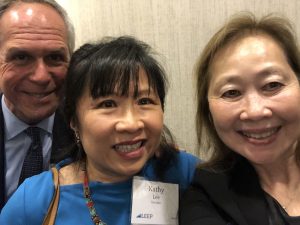 Wong Fleming has been a proud sponsor of pipeline diversity initiatives for years. Attending last night's NJ LEEP Leadership in Diversity Gala were Wong Fleming Partners Linda Wong and Daniel Fleming, and Supervising Attorneys Florelee Wan and Dafney Dubuisson Stokes. The Annual Gala, held this year at The Westin Jersey City Newport, supports the New Jersey Law Education Empowerment Program (NJ LEEP), which develops urban youth from grades 6 to 12 in underserved neighborhoods from northern New Jersey so that they can perform at high academic levels by building skills through law-related, mathematic and other educational programs, and develop the habits necessary for lasting success and community leadership. This worthy organization also offers exposure to role models who have already achieved academic and professional success. Two amazing NJ LEEP students were honored at Wong Fleming's sponsorship table [pictured]: Lee'Shae Lawson, who is going to Stanford University and Ross Johnson who is going to Yale University! Way to go rising stars Lee'Shae and Ross!
It was also a great pleasure to see Katherine Lee, a former Partner of Wong Fleming and now with Verizon, who also attended the Gala [pictured].