Justice Ruth Bader Ginsburg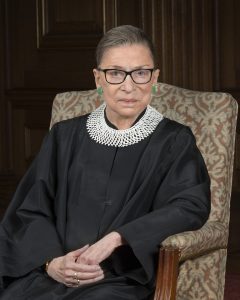 "Fight for the things that you care about, but do it in a way that will lead others to join you.
Ruth Bader Ginsburg was a U.S. Supreme Court Justice and activist. During her time at Harvard Law School, Ginsburg's professor told her that she was taking a spot that should have gone to a man. Ginsburg was known for taking on women's rights issues;  she argued over 300 gender discrimination cases for the ACLU. President Clinton nominated her as to the U.S. Supreme Court, and she took her seat on August 10, 1993, making her the second female Supreme Court Justice.
Dr. Mae C. Jemison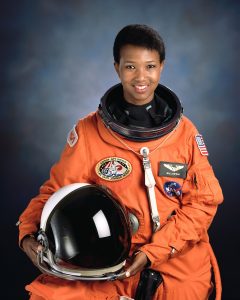 "Never be limited by other people's limited imaginations."
Mae C. Jemison was the first African American woman to be accepted into NASA's astronaut training program. She was also the first African American woman in space. On her mission on the Space Shuttle Endeavor, she spent eight days in space orbiting the earth 127 times with her team. After six years with NASA, Jemison started The Jemison Group, a technology company that researches and develops advanced technologies.
Toni Morrison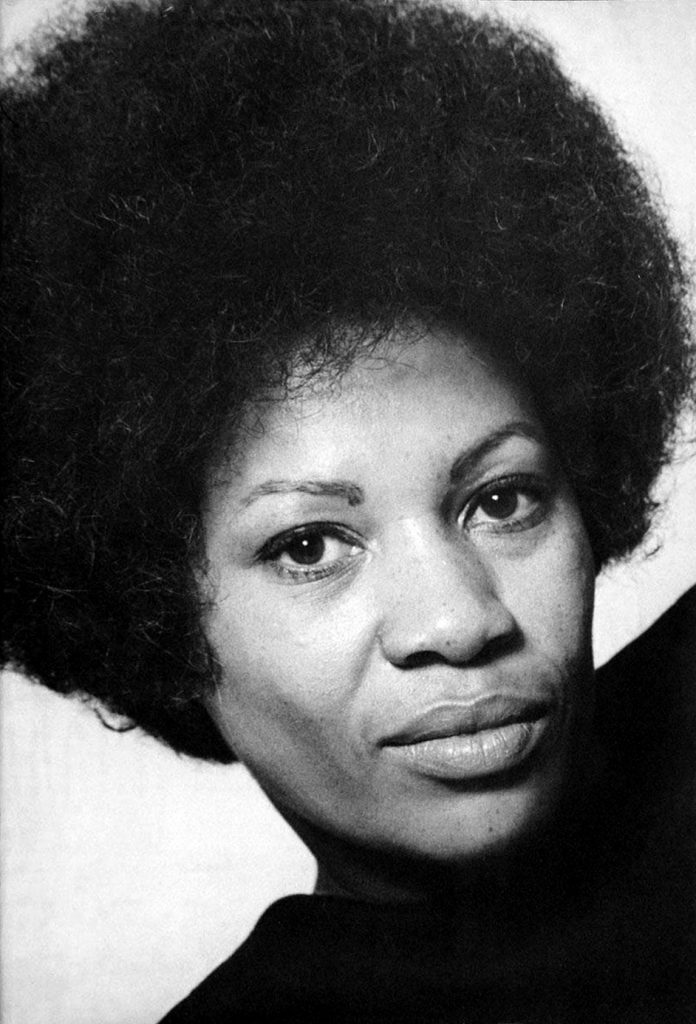 "The function of freedom is to free someone else."
Toni Morrison won the Pulitzer Prize for Fiction for her book Beloved in 1988. She became a professor at Princeton University in 1989, while there she created a program called the Princeton Atelier to encourage students to create original pieces. The Princeton Atelier still exists today. In 1993 she won the Nobel Prize in Literature for "novels characterized by visionary force and poetic import, [giving] life an essential aspect of American reality." Sadly, Morrison died at the age of 88 in 2019 due to complications with pneumonia.
Justice Sonia Sotomayor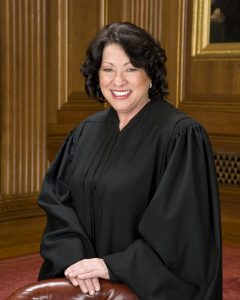 "Success is its own reward, but failure is a great teacher too, and not to be feared."
Justice Sonia Sotomayor grew up in the South Bronx, New York. Sotomayor graduated from Princeton University for her undergrad and Yale Law School. In 2009 after being nominated by President Obama, Sotomayor became the first Hispanic member of the court. She was on the bench for historic decisions like the ruling of Obergefell v. Hodges that made same-sex marriage legal in every state.
Priscilla Read Chenoweth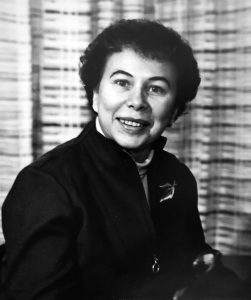 "It was clear to me that it was a gross injustice…The legal system had harmed this man, and the legal system should right the wrong." – Priscilla Read Chenoweth
In 1991, Pricilla Read Chenoweth, chief case digest editor of the New Jersey Law Journal, read a newspaper story about a young Hispanic man, Luis Kevin Rojas, who had been convicted of a murder in spite of what appeared to be strong evidence of his innocence. Assisted by her daughter, she investigated the crime and represented Mr. Rojas in extensive post-conviction proceedings. Ms. Chenoweth's perseverance, tireless efforts, and expenditure of her personal funds led ultimately to the reversal of Mr. Rojas's conviction, his acquittal at retrial, and statutory compensation to Mr. Rojas for his wrongful conviction.  Ms. Chenoweth recently passed away at the age of 90 on February 16, 2021, according to The New York Times.  A "central figure in New Jersey's civil rights movement" in the 1960's, according to the New York Times, Ms. Chenoweth was a 1968 Rutgers-Newark Law graduate who worked first for Middlesex County Legal Services, then as a Deputy Attorney General under Arthur J. Sills, and then in private practice. Her career at the Law Journal spanned thirty years from 1974 to 2004.
Shirley Chisholm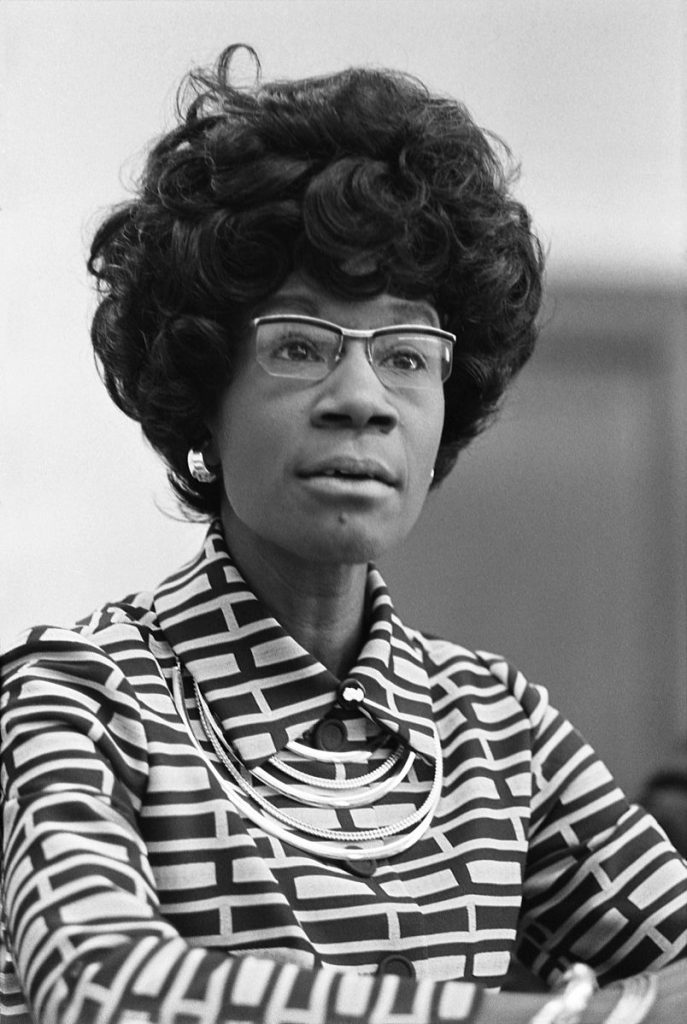 "If they don't give you a seat at the table, bring a folding chair." – Shirley Chisholm
Shirley Chisholm was the first African American woman elected to Congress and the first African American to seek the nomination for president of the United States. New members of Congress were expected to be seen and not heard. However, Chisholm had no intention of abiding by any arbitrary rules. She said she had " no intention of just sitting quietly and observing," but that she intended " to focus attention on the nation's problems." Throughout her political career, she was elected to represent different districts throughout New York. One of Shirley Chisholm's most famous campaign slogans was "Unbought and Unbossed." After her long career in Congress ended in 1983, she co-founded the National Political Congress of Black Women.
Sally Ride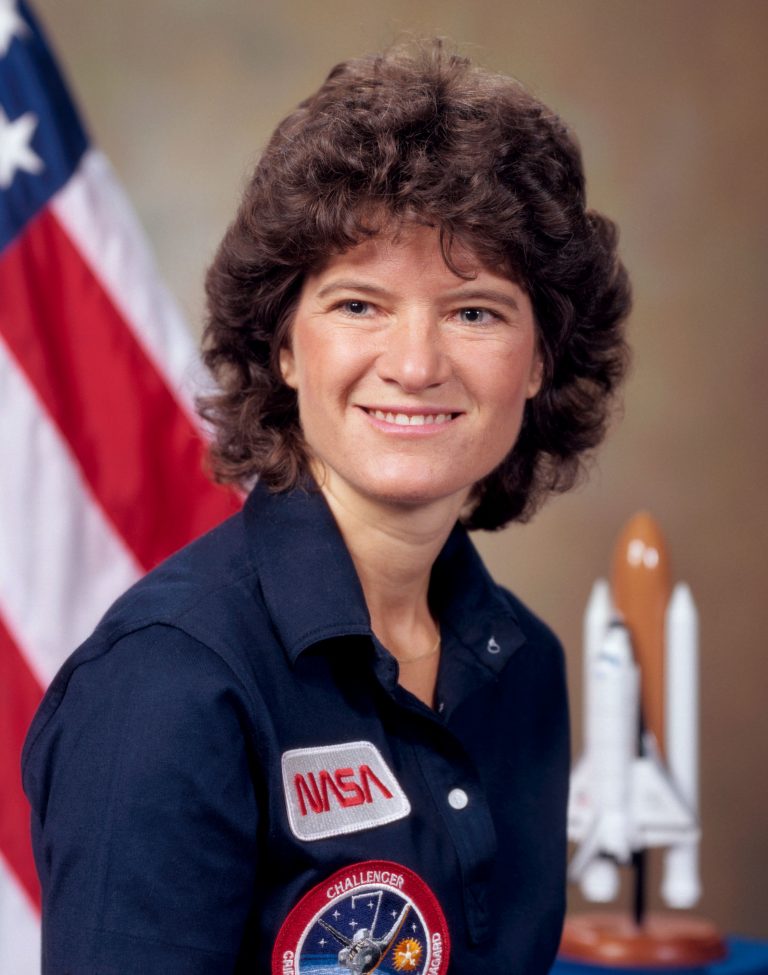 "I would like to be remembered as someone who was not afraid to do what she wanted to do and as someone who took risks along the way in order to achieve her goals." – Sally Ride
Sally Ride was the first American woman, the youngest American, and the first gay astronaut in space. At the age of 32, Ride was one of five astronauts aboard the space shuttle Challenger STS-7, and she spent a week in space as the crew's flight engineer. One year later, she embarked on another space mission and spent eight days orbiting and researching Earth.  After her time with NASA, Ride became a professor at the University of California in San Diego. Sally Ride was passionate about giving kids, especially girls,  more opportunities to interact with science and math, so she started EarthKam. EarthKam is a NASA outreach program for middle schoolers that enables kids to learn about Earth from pictures taken by a camera on the International Space Station. Sadly, Ride died in 2012 after battling pancreatic cancer. In 2013 after her death, President Obama awarded the Presidential Medal of Freedom to Sally Ride, which her partner, Tam O'Shaughnessy, accepted for her.
Dr. Chien-Shiung Wu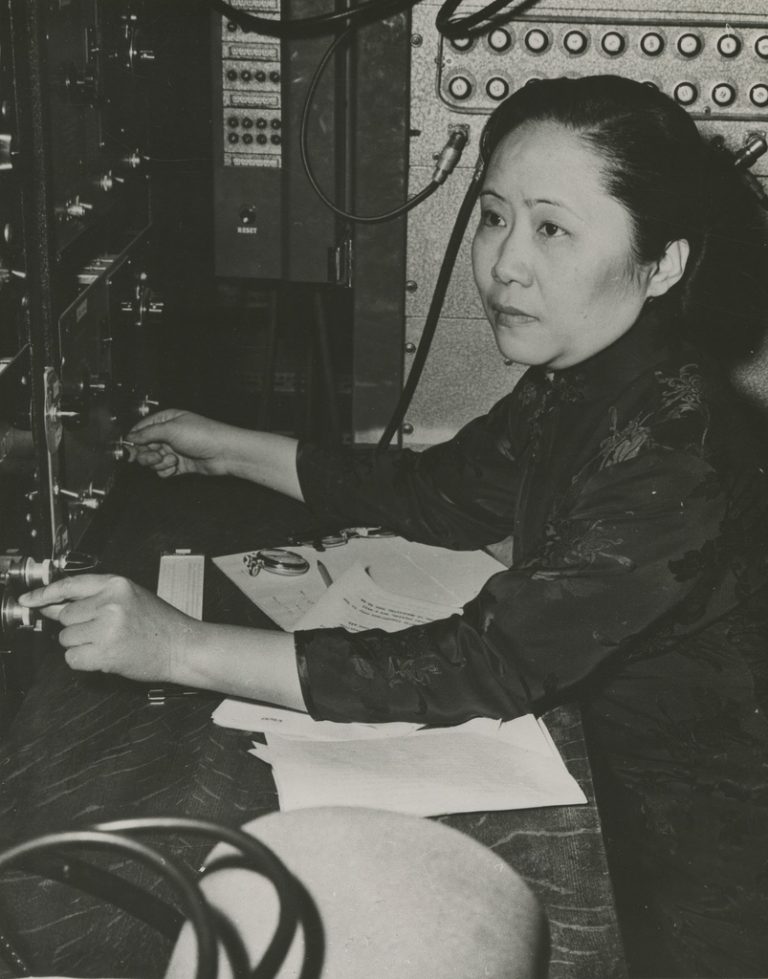 "Science is not static but is dynamic and ever-improving. It is the courage to doubt what has long been believed and the incessant search for verification and proof that pushes the wheels of science forward." —Chien-Shiung Wu, The First Lady of Physics
Dr. Chien-Shiung Wu grew up in a small town near Shanghai, China. After graduating from the National Central University with a degree in physics, Wu was encouraged by her mentor to continue her education in the United States. After studying at the University of California Berkeley, where she earned her PhD in physics, she moved with her husband to the east coast where she taught at Princeton University and Smith College. In 1944, Dr. Wu joined the Manhattan Project, where her research included improving Geiger counters for the detection of radiation and the enrichment of uranium in large quantities. In 1956, theoretical physicists Tsung Dao Lee and Chen Ning Yang approached Wu and asked her to create an experiment that would help them prove a theory they had about nuclear particles. Wu's experiment was successful and proved Lee and Yang's theory, earning the men a Nobel Prize in 1957, however, Dr. Wu's contribution to the discovery was not recognized.
Justice Elena Kagan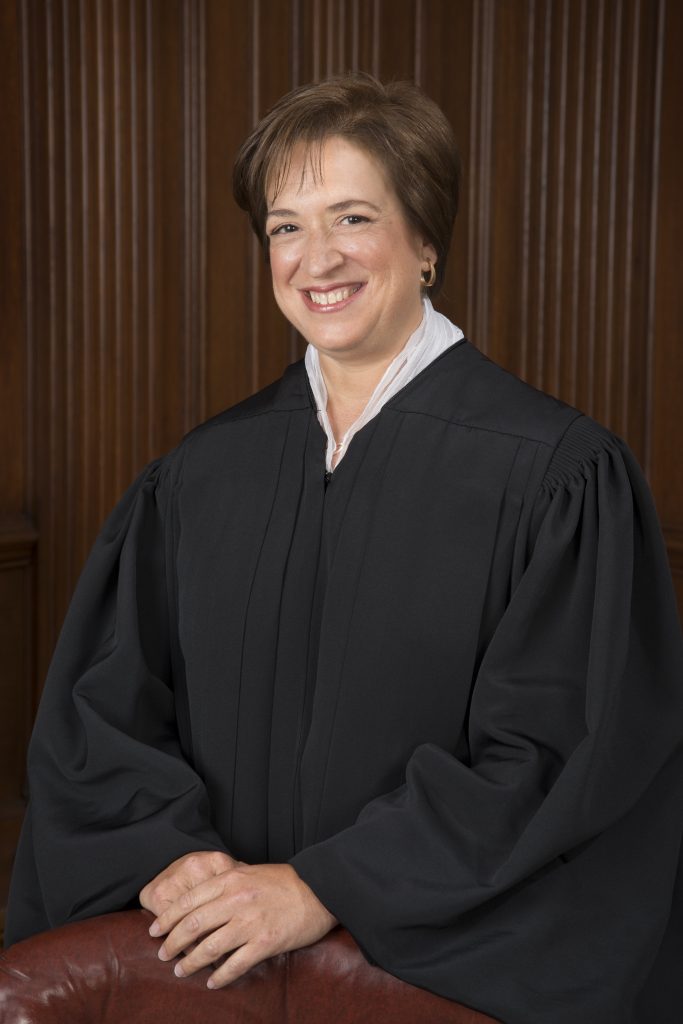 "I've led a school whose faculty and students examine and discuss and debate every aspect of our law and legal system. And what I've learned most is that no one has a monopoly on truth or wisdom. I've learned that we make progress by listening to each other, across every apparent political or ideological divide." – Justice Elena Kagan
Justice Elena Kagan, born and raised in New York City,  graduated from Princeton University, the University of Oxford and Harvard Law school. After law school, Justice Kagan clerked for Justice Thurgood Marshall, entered private practice for a short time and entered academia, first at the University of Chicago Law School and ultimately at Harvard, becoming a full professor in 2001 and its Dean in 2003.
Justice Kagan is known for her whimsical majority opinion in Kimble v. Marvel Entertainment, a patent case, where she made references to Spiderman, and even cited the Spiderman comic.  She also joined the majority in upholding the Affordable Care Act, in King v. Burwell, and in declaring that same-sex marriage was a constitutional right, in Obergefell v. Hodges.
President Barack Obama, in 2008, appointed Justice Kagan to be the first female solicitor general. In May 2010, President Obama nominated her as Supreme Court Justice John Paul Stevens' replacement. At the time of her confirmation, she was the youngest sitting justice and the fourth woman to become a member of the Court.
Kalpana Chawla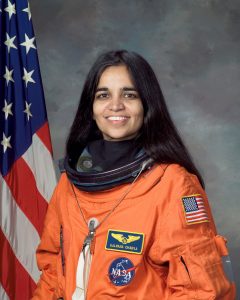 "The path from dreams to success does exist. May you have the vision to find it, the courage to get on to it, and the perseverance to follow it." – Kalpana Chawla
Kalpana Chawla immigrated to the United States and became a naturalized citizen in the 1980s; she went on to get her master's from the University of Texas, and a doctorate in aerospace engineering from the University of Colorado, in 1988. In 1994 she was selected as an astronaut candidate, and her first opportunity to go to space came in 1997 aboard the space shuttle Columbia on flight STS-87. She was the first woman of Indian origin to go to space. While on the mission, the astronauts orbited the earth 252 times in two weeks. During the launch on her second trip, a briefcase-sized piece of insulation broke off from the Space Shuttle and struck the left-wing of the orbiter, impairing the shield that protects the craft from heat during re-entry. During the teams' 16-day flight, they completed over 80 experiments. Upon re-entry, as the shuttle passed through the atmosphere, hot gas streamed into the wing, causing the craft to break up. Tragically, the ship depressurized and killed the crew. After her death, Chawla was awarded the Congressional Space Medal of Honor. In her memory, The Kalpana Chawla ISU Scholarship fund was founded by alumni of the International Space University (ISU) in 2010 to support Indian women's participation in international space education programs.
Lieutenant Nadja West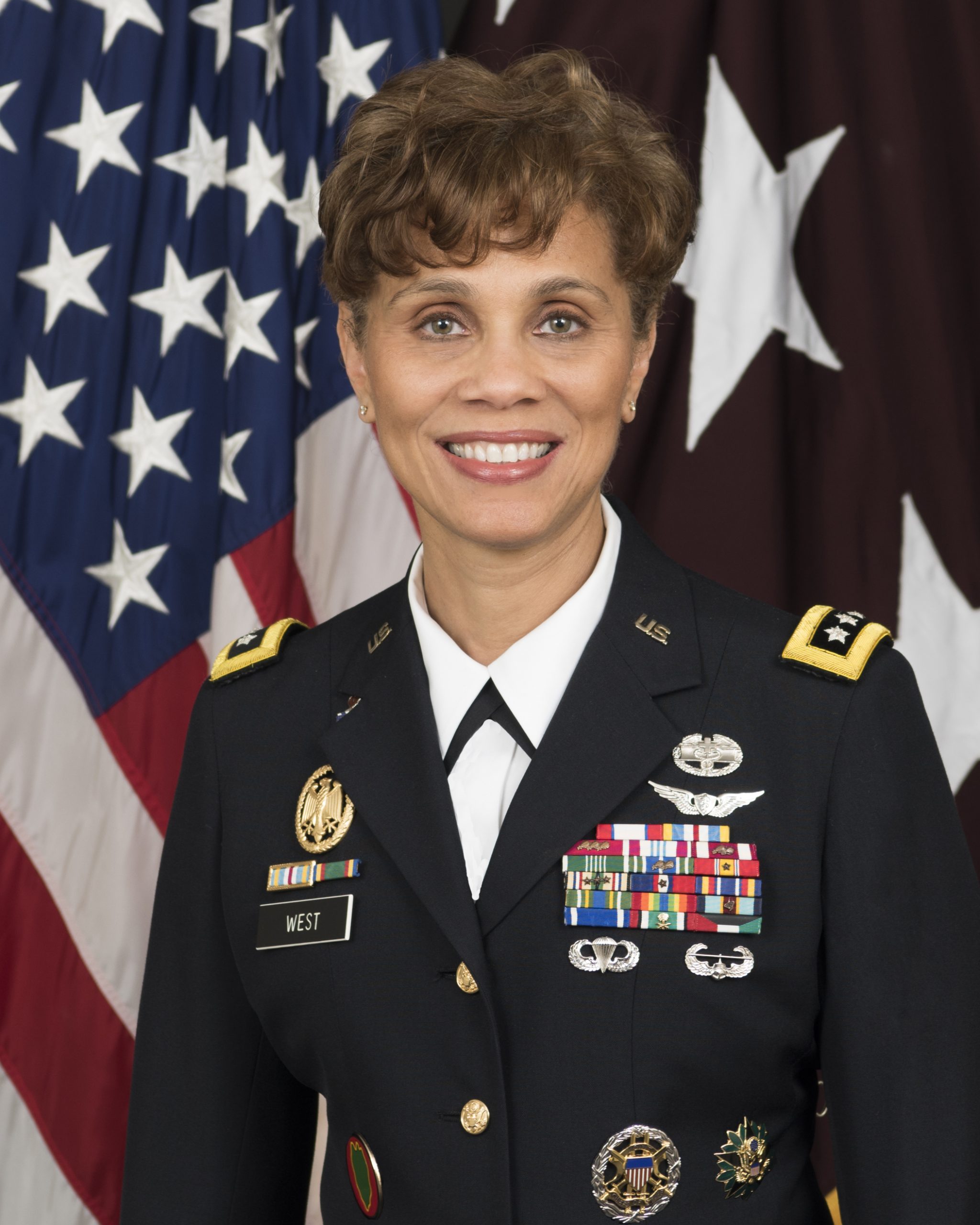 "If you want to feel inspired about what military medicine does, see how appreciative these men and women are for the care they've received. It's right here. It's the reason the military health system exists: to take care of brave men and women like them."- Lieutenant Nadja West
Lieutenant Nadja West graduated from the United States Military Academy with a Bachelor of Science Degree in Engineering and earned a Doctorate of Medicine Degree from George Washington University. In 2015, the Senate confirmed the nomination of West as Lieutenant General, and she became the 44th Army Surgeon General. This made West the Army's first black Surgeon General, as well as the Army's first black woman to hold the rank of Lieutenant General and the Army's highest-ranking woman who graduated from the United States Military Academy. She was attached to the 2/69th Armor Battalion during Operation Desert Storm and served in Operation Desert Shield with the 197th Infantry Brigade, 24th Infantry Division.
West is the youngest of 12 adopted children, many of whom also served in the military, and her father was in the military for 33 years. Lieutenant Nadja West credits her parents with teaching her to work hard and to be the best she could be. An early positive influence in West's life was seeing a black female character (Uhura) on the bridge of Star Trek's USS Enterprise.
West is a well-decorated veteran with over 12 awards of accomplishment. Some of her most prestigious accomplishments include the Distinguished Service Medal, Defense Superior Service Medal, Legion of Merit with three Oak Leaf Clusters, and the Defense Meritorious Service Medal. In 2019, Lieutenant West retired and currently serves on the Board of Directors for several different companies, such as Johnson & Johnson and Americares.
Jennifer Doudna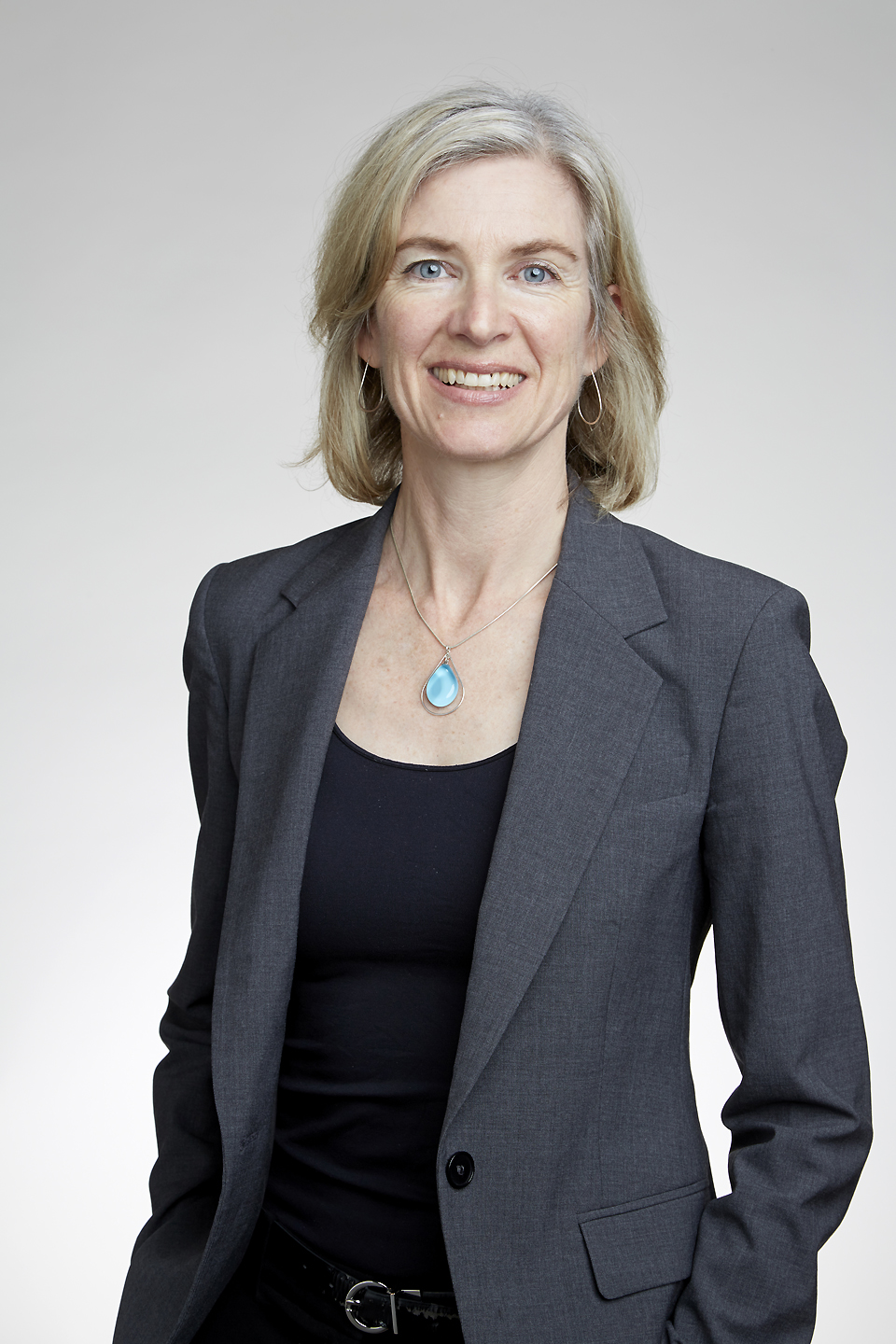 "The power to control our species' genetic future is awesome and terrifying. Deciding how to handle it may be the biggest challenge we have ever faced."- Jennifer Doudna
Jennifer Doudna is an American biochemist and co-inventor of CRISPR gene editing, which proved that enzymes from bacteria that control microbial immunity could be used for programmable editing of genomes and which has been called one of the most significant discoveries in the history of biology. Doudna collaborated with Emmanuelle Charpentier to create CRISPR-Cas9, and in 2020 Doudna and Charpentier won the Nobel Prize in Chemistry for this powerful technology. This is the first time that two women have shared the Nobel Prize.  In addition to her scientific achievements, Doudna is also a leader in public discussion of the ethical implications of genome editing for human biology and advocates for thoughtful approaches to the development of policies around the safe use of CRISPR technology.
Ellen Ochoa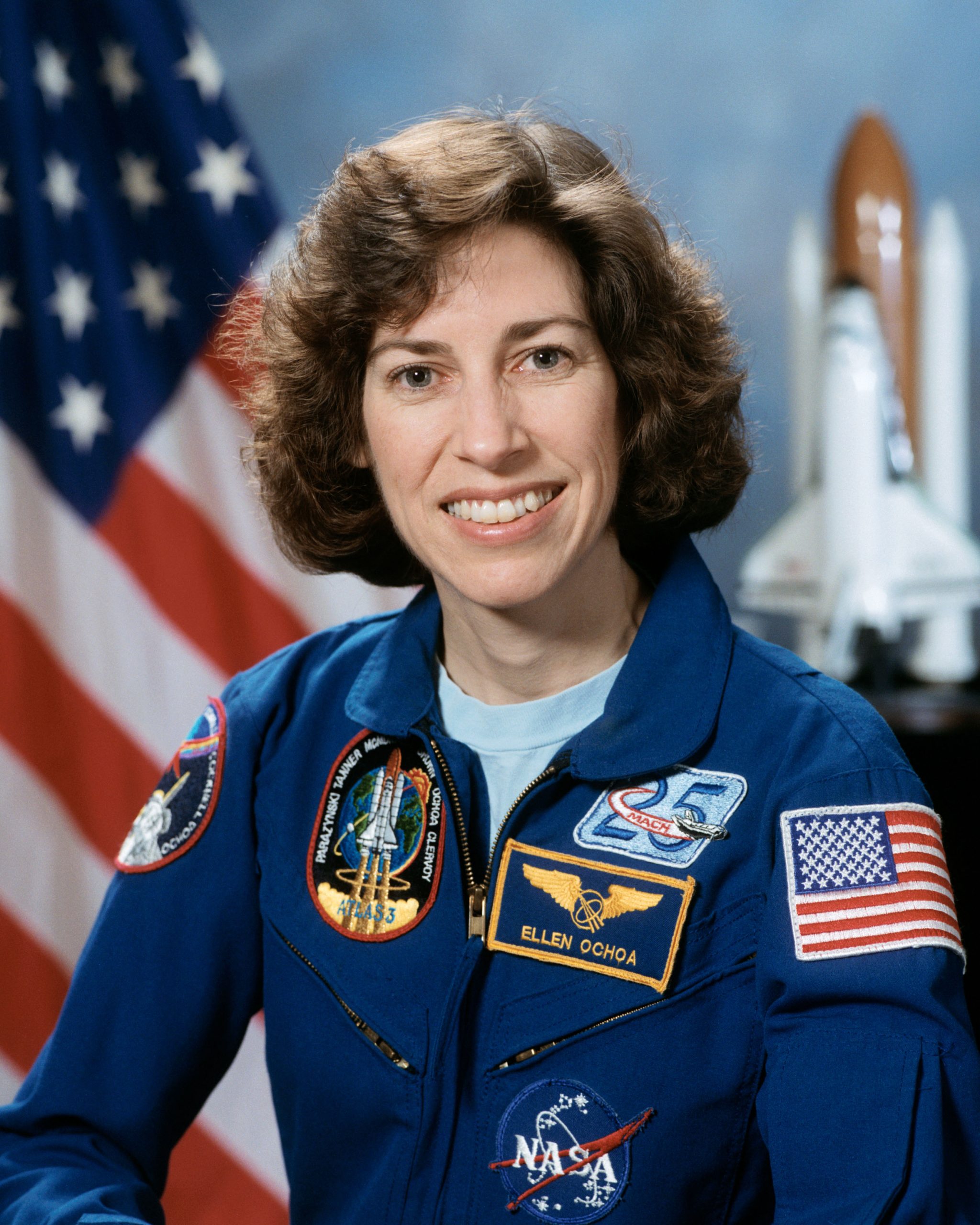 "I hope to continue to inspire our nation's youth to pursue careers in science, technology, engineering, and math so they, too, may reach for the stars." – Ellen Ochoa
Ellen Ochoa is an American engineer, former astronaut and former director of the Johnson Space Center.  Ochoa was selected by NASA in 1990 to participate in its astronaut program and she became the first Hispanic female astronaut when she completed her training. In 1993, Ochoa became the first Latina to be launched into space when she served on a nine-day mission aboard the Space Shuttle Discovery. Ochoa spent more than  40 days in space on her four spaceflights.  In 2007, she became the deputy director of the Johnson Space Center in Texas, and was later promoted to director. Today, Ochoa serves as the Chair to the National Science Board which runs the National Science Foundation.
Amy Tan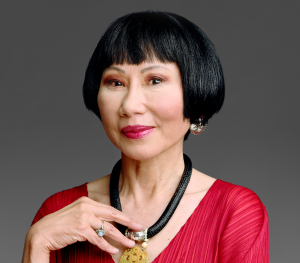 "If you can't change your fate, change your attitude" – Amy Tan
Amy Tan is a Chinese American author best known for the novel, The Joy Luck Club. When she was eight-years-old, Tan won a contest for her essay "What the library means to me" and from then on she knew she wanted to write. When Tan was 15, her brother and father both died of brain tumors and Amy's mother, Daisy, moved the family to Switzerland. Tan returned to the United States for college where she earned bachelor's and master's degrees in English and Linguistics. After college, she started her career as a language development specialist, and in 1983 she started freelance writing for tech companies like IBM and AT&T. In 1986, Tan's first story was published in the magazine FM Five, and was later reprinted in Seventeen and Grazia. Her first book of short stories, The Joy Luck Club, was a best seller and spent over 40 weeks on the New York Times Bestseller List. The book was eventually adapted into a movie, Amy co-produced and co-wrote the screenplay.
Tammy Duckworth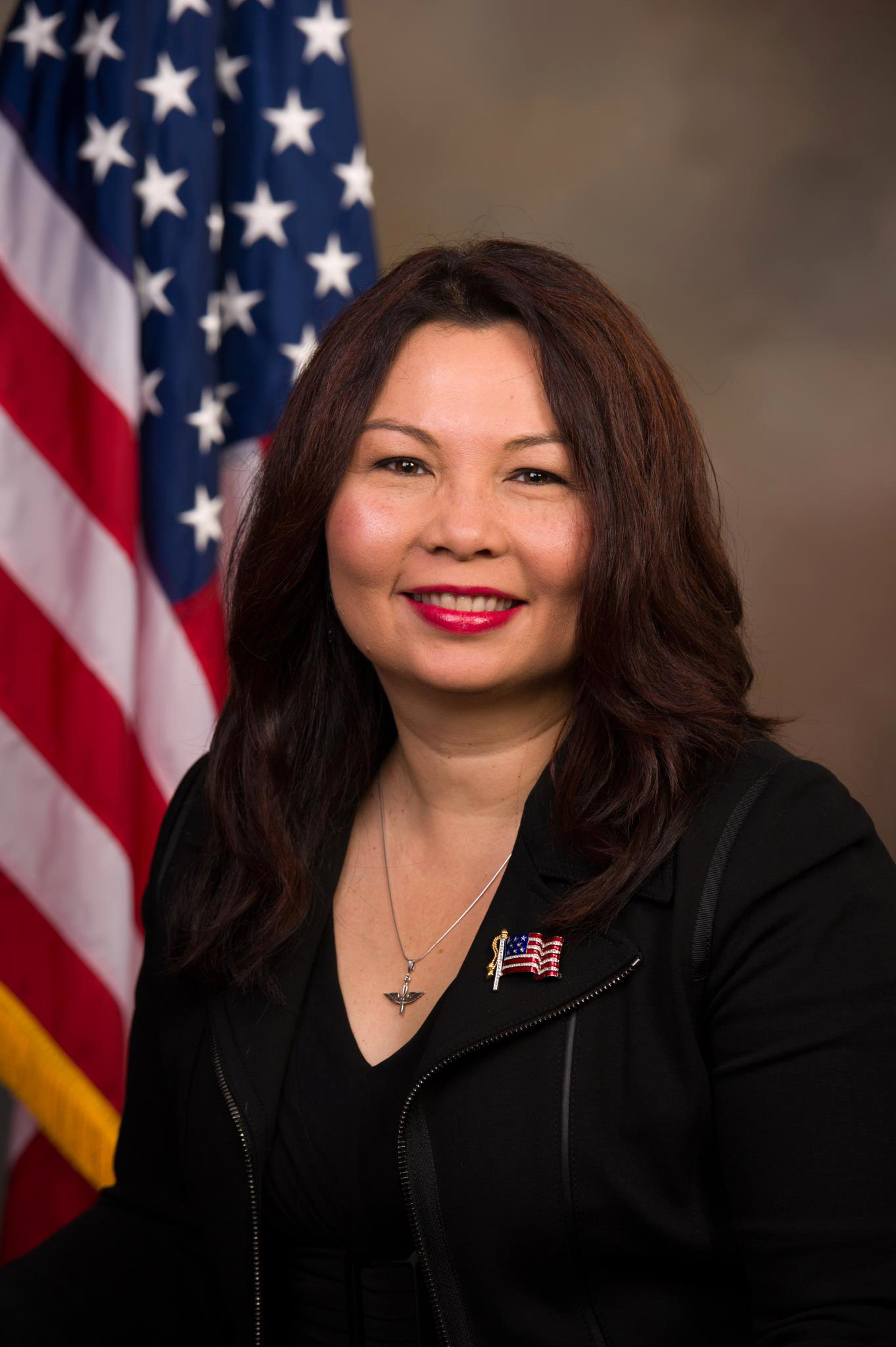 "We must be an inclusive nation that respects and supports all of its citizens: a nation that doesn't give up on anyone who hasn't given up on themselves." – Tammy Duckworth
Tammy Duckworth is a retired Lieutenant Colonel, having served in the armed forces for 23 years and was among the first handful of Army women to fly combat missions during Operation Iraqi Freedom. In 2004, she was deployed as a Blackhawk helicopter pilot in Iraq. While there, her helicopter was hit by an RPG, resulting in the loss of her legs and partial use of her right arm. After her recovery, Duckworth became Director of the Illinois Department of Veterans Affairs, and later in 2009, President Obama appointed her as the Assistant Secretary of Veterans Affairs. Since 2016, Duckworth has represented Illinois in the U.S. Senate.  She is the first Thai American woman elected to Congress, the first person born in Thailand elected to Congress, the first woman with a disability elected to Congress, and the first female double amputee in the Senate.  In 2018, after Duckworth became the first Senator to give birth while serving in office, she sent a message to working families across the country about the value of family-friendly policies by securing a historic rules change that allows Senators to bring their infant children onto the Senate floor.