January 13, 2020 | by Wong Fleming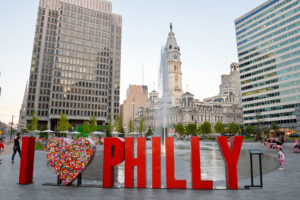 (Pictured above: "I Love Philly" sign, located at LOVE Park in Center City Philadelphia. Two Penn Center Building shown to the right.)
Wong Fleming is proud to announce the re-location of our Philadelphia office to Two Penn Center Plaza. Located in the heart of Center City, the move to an upgraded space allows Wong Fleming to further assist the needs of local clients in Philadelphia's central business district and the surrounding area.
Located at 1500 John F Kennedy Boulevard, Two Penn Center Plaza, the new office will be led by CEO & Partner Linda Wong and Vice President & Partner Daniel Fleming.  The firm will continue to be headquartered in Princeton, New Jersey.
"Our strong localized presence in Philadelphia allows us to better collaborate and deepen relationships with those who appreciate our commitment to delivering value that exceeds expectations and that results in a meaningful solution to the client's business problem," says Linda Wong, founder and CEO of Wong Fleming.
Partner Linda Wong is founder and CEO of Wong Fleming, and chairs three practice groups at the firm, which grew to more than 40 attorneys, in part via merger, over the years.
Partner Daniel Fleming also currently serves as Chairman of the Board of Directors for Asian Bank in Philadelphia. Prior to his appointment, Mr. Fleming served as a member of the bank's Board of Directors and as Chairman of the Audit Committee for nearly a decade. He also serves on the Program Committee for the Philadelphia Chinatown Development Corporation ("PCDC").
About Wong Fleming
Wong Fleming is a full-service law firm, headquartered in Princeton, New Jersey. The firm's branch offices are located throughout the United States, including California, District of Columbia, Florida, Georgia, Illinois, Indiana, Michigan, New Jersey, New York, Pennsylvania, Tennessee, Texas and Washington. The firm is certified as a minority- and women-owned business by the National Minority Supplier Development Council ("NMSDC"), the Women's Business Enterprise National Council ("WBENC"), the Commonwealth of Pennsylvania, the City of Philadelphia, the State of New Jersey, the State of New York, New York City and numerous other public entities. Wong Fleming is also member of National Association of Minority & Women Owned Firms ("NAMWOLF").
Contact
1500 John F Kennedy Boulevard
Two Penn Center Plaza
Suite 810
Philadelphia, PA 19102
Phone: (215) 546-2776