July 14, 2023 | by Wong Fleming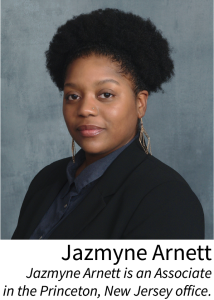 Wong Fleming welcomes Jazmyne Arnett as an Associate in the firm's Princeton, New Jersey office, where her practice is concentrated on Commercial Litigation. Ms. Arnett is admitted to practice in California, the Central District of California, and the Northern District of California.
Ms. Arnett has experience in complex personal injury and other litigation, including all aspects of discovery and motion practice, before state and federal courts. Additionally, her practice is concentrated on ADA compliance and intellectual property.
Ms. Arnett earned her Juris Doctorate from the American University Washington College of Law. She received a Bachelor of Arts in Communications with a minor in Criminology from George Mason University.
Beyond her professional pursuits, she enjoys engaging in creative writing and volunteering with local youth organizations.
Wong Fleming is a nationally recognized, AV-Rated law firm that represents Fortune 500 companies and other corporate clients in the areas of commercial law, corporate asset recovery, creditors' rights and bankruptcy, employment and labor law, environmental, insurance defense and coverage, intellectual property, immigration, real estate, and premises and product liability. The firm maintains offices in the New Jersey, New York, Pennsylvania, District of Columbia, Florida, Georgia, California, Texas, Washington, Illinois, Indiana, Michigan, Tennessee, Canada, Mexico, and Germany.