April 21, 2023 | by Wong Fleming
Did you know that April is National Arab American Heritage Month?
Arab American Heritage Month was officially established by President Biden in April 2021. This month-long celebration is a time to recognize the rich history and contributions of Arab Americans. Despite the recent recognition, Arab Americans have been making significant contributions in various fields for a long time, including the legal industry.
As we celebrate Arab American Heritage Month, let us take the time to honor and recognize the achievements of Arab American lawyers. Let us also continue to uplift and support Arab Americans in the legal field, ensuring that they have the resources and opportunities to succeed and make their own contributions to the profession.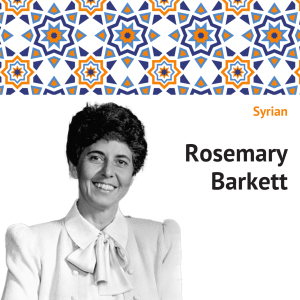 Rosemary Barkett
We highlight Rosemary Barkett (August 29, 1939 – present) who is a Judge of the Iran-United States Claims Tribunal and the first woman to serve on the Florida Supreme Court. She was born in Mexico to immigrant parents from Syria and moved to the United States at the age of six. Barkett started as a nun and taught elementary and junior high school classes for almost a decade before leaving the convent to practice law. Barkett earned a law degree from the University of Florida and worked as a lawyer in private practice from 1971 until 1979 in West Palm Beach, Florida, before being appointed as a state circuit court judge in 1979. Barkett's appointment exposed gender-bias concerns in the institution, such as only having two restrooms, one labeled "Justices" and the other "women." Barkett was called "Madam Justice Barkett," which she felt was inappropriate because she was not married. She requested to be referred to as "Justice Barkett", and other justices followed her lead by dropping the "Mr." prefix from their titles.
Barkett's contributions to the legal profession have been significant and far-reaching. She has authored hundreds of opinions, many of which have helped shape the law on issues such as civil rights, the death penalty, and the rights of detainees. Barkett is a recipient of seven honorary degrees, including The Margaret Brent Women Lawyers of Achievement Award presented by the ABA Commission on Women in the Profession and the Latin Business and Professional Women Lifetime Achievement Award.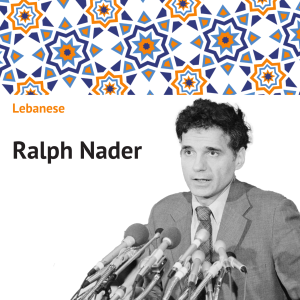 Ralph Nader
We also highlight Ralph Nader (February 27, 1934 – present), an Arab American lawyer and politician who has devoted his life to public service and has made significant contributions to various social causes for over six decades. Ralph Nader once said, "The function of leadership is to produce more leaders, not more followers."
Born to Lebanese immigrants in Connecticut, Nader attended Princeton University and Harvard Law School, where he developed his passion for public policy and consumer protection. In 1965, he authored his first book, Unsafe at Any Speed, which helped pass the National Traffic and Motor Vehicle Safety Act. This legislation made automobiles safer and saved countless lives. Nader then became a prominent public figure and began advocating for various social causes, including environmental protection, government accountability, and consumer rights. In 1971, he founded Public Citizen, a nonprofit consumer advocacy organization that has become a leading voice for government accountability and corporate responsibility. Throughout his career, Nader has been a tireless advocate for the rights of consumers, workers, and ordinary citizens, pushing for federal oversight agencies such as the Occupational Safety and Health Administration and the Consumer Product Safety Commission, as well as environmental protection laws such as the Safe Drinking Water Act and the Clean Air Act. Nader has run for president three times, championing progressive causes and policies, and has been an important figure in the Arab American community, speaking out on issues related to the Middle East and Palestine. Ralph Nader's legacy serves as an inspiration to future generations of Arab Americans and all those who seek to make a positive difference in the world.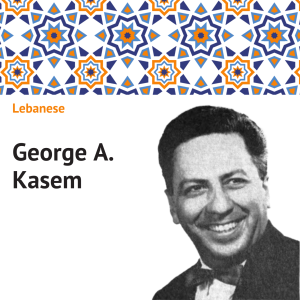 George A. Kasem
We also recognize George A. Kasem (April 6, 1919 – February 11, 2002), who was a distinguished lawyer that made significant contributions and helped pave the way for other Arab Americans in the legal profession. Kasem, who was of Labanese descent, was born in Oklahoma before his family relocated to Los Angeles, California while he was still young. He served in the United States Army Air Forces during World War II, serving in Sudan, Egypt, and Iraq, and later received both his college and law degree from the University of Southern California. Kasem went on to become the first Arab American to ever be elected into the United States Congress. He served one term in the House of Representatives in 1959.
Once his tenure in Congress ended, Kasem went back to practicing law. He also took up the position of commissioner at Citrus Municipal Court in West Covina, California, which he held from 1978 to 1984.