September 26, 2023 | by Wong Fleming
Wong Fleming proudly recognizes National Hispanic Heritage Month, celebrated in the United States from September 15th to October 15th. This month originated in 1968 as Hispanic Heritage Week and expanded into a month-long observance in 1988 to honor the culture, history, and contributions of Latinos who have served as inspirations for others' success. The selection of the dates September 15th to October 15th is significant, as it coincides with the independence anniversaries of several Latin American countries, including Costa Rica, El Salvador, Guatemala, Honduras, Nicaragua, and Mexico.
Throughout Hispanic Heritage Month, diverse events, programs, and initiatives are held nationwide to showcase the achievements, contributions, and cultural traditions of Latin American communities. This period serves as a platform for raising awareness and fostering appreciation of the diverse backgrounds and experiences of Latinos in the United States, celebrating their vital role in shaping the nation's history, society, and culture.
Wong Fleming has been a minority and woman-owned law firm committed to diversity in the legal profession since the firm was founded in 1994. Our commitment to diversity is pervasive and is reflected in the firm's ownership, associate ranks, and support staff.
This month, we celebrate all of the Latino individuals and businesses that make up the fabric of our nation and we recognize these communities' consistent contributions, which have added immeasurable value to our quality of life.
Honorable Albert Diaz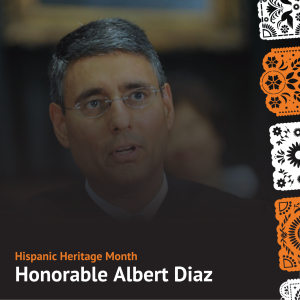 In honor of Hispanic Heritage Month, Wong Fleming recognizes the Honorable Albert Diaz.
The Honorable Albert Diaz, born in 1960, is the Chief United States Circuit Judge of the United States Court of Appeals for the Fourth Circuit, the first Hispanic judge to serve on this circuit. Born to Puerto Rican parents and raised by his mother in Brooklyn, he went on after high school to earn a Bachelor of Science degree in economics from the Wharton School of the University of Pennsylvania in 1983 and earned a Juris Doctor from New York University School of Law in 1988. He embarked on a remarkable career, first serving in the U.S. Marines where he rose to the rank of lieutenant colonel, USMCR, and worked as a prosecutor, defense lawyer, and judge. Following his military service from 1988 to 1995, he became an associate at Hunton & Williams, representing Philip Morris USA during significant tobacco lawsuits. In 2001, he became the first Hispanic state judge in North Carolina when appointed to the North Carolina Superior Court by then-Governor Mike Easley. His legal career further flourished when he was nominated by President Barack Obama in 2009 to be a United States circuit judge for the Fourth Circuit, culminating in his confirmation in 2010. Judge Diaz's unwavering commitment to justice, diversity, and public service is reflected in his involvement in various legal associations and committees, making him a prominent figure in both the legal and Hispanic communities.
Gustavo "Gus" Garcia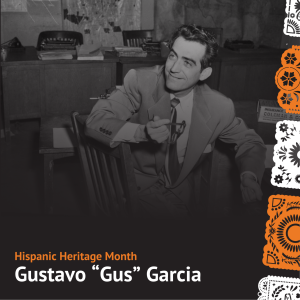 Wong Fleming also recognizes Gustavo "Gus" Garcia.
Gustavo "Gus" Garcia (1915–1964) was a prominent figure in Texas legal and social circles, known for his significant contributions to the Mexican-American civil rights movement. He played a pivotal role in the legal team that won the landmark Hernandez v. Texas case in 1954, establishing the right of Mexican-Americans to serve on juries and expanding the protection of the 14th Amendment to cover Latinos. This victory paved the way for legal challenges in various areas, including housing, education, and employment discrimination.
Born in Laredo, Texas, he graduated as Thomas Jefferson High School's first valedictorian in 1931 and received a scholarship to the University of Texas, where he obtained a B.A. in 1936 and an LL.B. in 1938. Drafted into the United States Army in 1941, he returned and refocused his efforts on addressing domestic inequalities. As a legal advisor to prominent organizations like the League of United Latin American Citizens (LULAC) and the American G.I. Forum, he played a key role in abolishing the segregation of children of Mexican descent in Texas.
Gus Garcia's legal prowess was evident when he secured the historic Supreme Court victory in 1954, ensuring Mexican-Americans right to participate on juries. His compelling presentation was so impressive that the justices granted him an additional 16 minutes to argue his case—a privilege not granted to Thurgood Marshall during the Brown v. Board of Education argument. Despite his contributions, personal challenges, including alcoholism and depression, marked his later life. Regrettably, his post-Supreme Court career declined, ultimately leading to homelessness and personal turmoil. He passed away at 48, alone on a San Antonio park bench. Gus Garcia's life serves as an emblematic example of a flawed yet inspirational figure who played an essential role in the Mexican-American civil rights movement. Recent initiatives, such as documentaries and movie proposals, aim to illuminate his extraordinary achievements and personal tribulations, ensuring that his legacy perseveres.
Catherine Cortez Masto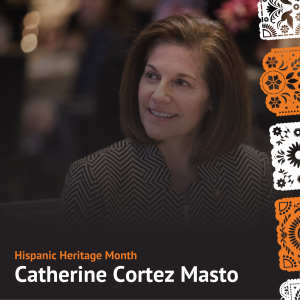 Wong Fleming also recognizes Catherine Cortez Masto, the nation's first elected Latina U.S. Senator and former Nevada Attorney General. Born in Las Vegas, Nevada, Cortez Masto earned a Bachelor of Science in finance from the University of Nevada, Reno in 1986, and a Juris Doctor from Gonzaga University School of Law in 1990.
As Attorney General, she tackled issues like illegal drug and sex trafficking, elder exploitation, and mortgage lending fraud that had contributed to the housing crisis. Before her political career, she excelled as a civil attorney in Las Vegas and a criminal prosecutor in Washington, D.C.
Cortez Masto made history by becoming the first woman to represent Nevada in the U.S. Senate and the first Latina to serve in the upper chamber. She has supported various policies, including renewable energy technology, environmental protection, responsible gun control, healthcare improvements, and women's reproductive rights, while also advocating for immigration reform and marriage equality. Cortez Masto has also passed legislation authorizing a series of quarters to be made honoring women's history and suffrage, including Queen of Salsa Celia Cruz. She supports legislation to promote women and underrepresented groups in STEM education and regularly supports legislation to provide professional opportunities for women and Latinas, including federal funding for Hispanic-Serving Institutions in Nevada.
In her own words: "Hispanic Heritage Month is an important time to recognize our community's rich traditions and celebrate the impact we have had across the country. Latinos have long shaped Nevada's story. We have deep roots here. I'm so proud of my heritage, and I'm especially honored to be the first Latina in the United States Senate. I look forward to seeing more Latinos in elected office to bring our voices and valuable perspectives to the table."